Hi everyone! My name is Susannah.
( you guys can find Susannah here.
SusannahBean
I was tickled pink when Val asked me to participate in her birthday celebration. It's especially sweet since my birthday is just one day after hers! On June 16th I'll be turning 25. I can't believe it, I'll be a quarter of a century old! I absolutely love having a summer birthday, and for the first time in a while I'll be having a birthday party! I figured that 25 is a pretty special birthday, so why not gather all my friends and celebrate? We're going to have a barbecue in the backyard and spend some time at the little beach down the street from my house. I'm going to make it cute by making lots of decorations, baking colorful cupcakes, and playing awesome music for a dance party on the deck! It'll be a grown-up version of my childhood birthday parties. Having a summer birthday always meant playing outside until it was time for cake, so I never had a themed party. Someday I'd like to have one, so I thought I'd share some fun ideas for themed parties for *big* girls :)
Rollerskating!
Gather all your best friends and dress in 70s styles! Bellbottoms, short shorts with knee-high socks, big collared shirts... Skate to a soundtrack of disco hits, drink Cokes out of glass bottles, and end the night by doing the Hustle!
Wear a fabulous 20s inspired frock and feathers in your hair. Drink champagne and dance the night away. Hang a sheet in the living room and use a projector to show a black and white film from old Hollywood :)
Luau!
Wear your tackiest Hawaiian print, buy some cheap lei's, and drink fruity frozen treats out of coconuts! Stick some torches in the ground and try your best at the hula!
In honor of sweet Val's birthday, I'm giving away a handmade headband, crafted by yours truly!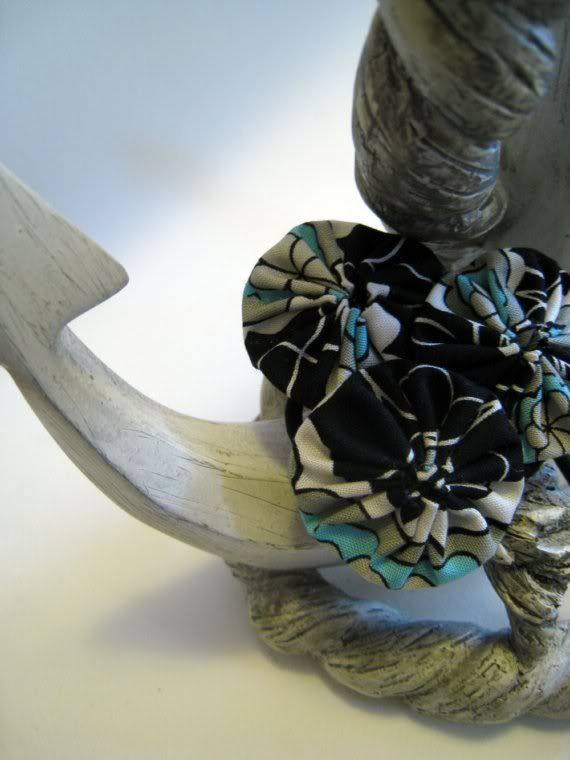 This headband is made up of three little fabric yoyo's, secured to an elastic headband. I hope you like it! Thanks for letting me share my birthday dreams, and I wish Val the happiest of happy birthdays!
In order to enter this Giveaway you must:
-be a follower of allthingschula
-be a follower of susannahbean
-tell us what your ideal birthday party would be if you had a summer birthday.
please leave a seperate comment for each entry.
Thanks Susannah, Its so fun that we almost share a birthday!!! I know your party will be amazing for you!
love,
val